Skill Sets
Maguss features an open-skill player advancement system.
That is to say, the player is free to pick and choose the skills in which they invest their XP into.
Players that choose to invest heavily into specific skills gain advantages and passive "perks" when specializing.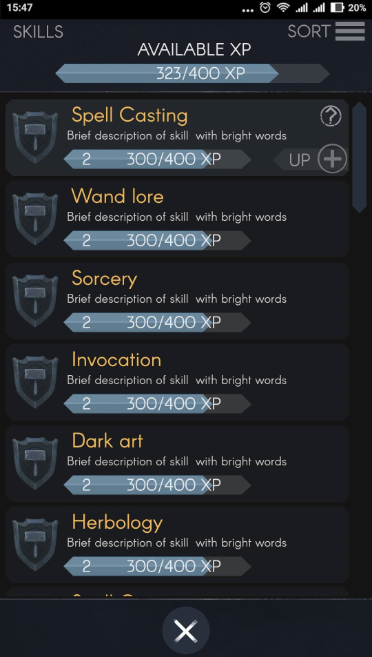 Where to invest XP
A player may only invest XP into specific skills when visiting their Guild Hall.
• From the Guild Hall main screen, simply open the Player Profile by tapping your name, level or health/xp bars.
• Choose "Skills" to access the list of available skills.
• Tap on any skill you wish to increase and press the "+" button to spend XP.
• When you have selected the amount of XP you desire to invest, press "OK".
Skill Levels and Benefits
• Each skill has ten (10) levels/ranks.
• When a skill has reached rank 10, the player is considered a Master in that skill and is provided a bonus benefit.
• Skill "perks" unlock every 2nd rank, in total a skill has five (5) passive benefits.
List Of Skills
TBA