I have copied the updates from the IGG campaign to here, and will keep it updated as new updates come out.
Hey fellow wizards,

We are amazed by your support and engagement during the first few days of the campaign. It has been just a couple of hours and you have already helped us reach more than one third of our funding goal!

Thanks to your fast contributions early bird Maguss Wand package is now sold out. We are pretty sure there will be a lot of players around the world fighting monsters, exploring dungeons or brewing potions from various ingredients.

At this time, we would like to ask you to spread the word with your friends, colleagues, relatives and anyone who might be interested in joining our amazing community. Tell them about the game and join the same Order together.

We have also made a brief infographic with all the essential information about the game.

You can see it by clicking the link below.
http://9gag.com/gag/a9Y9My0

If you are familiar with 9gag, feel free to upvote the post and help us reach the HOT category.

The day after tomorrow we will post an update  regarding part of the gamplay. We will tell you more about quests and their role in the game.
We have also set up a forum where you can ask questions or just hang out with others with same interests.

Click http://forum.maguss.org and visit The Bar, see the exhibition in The Gallery or suggest your ideas for game improvements.

Again, we are incredibly

thankful

for your support.
Maguss Team.
---
Quests section added - check it out!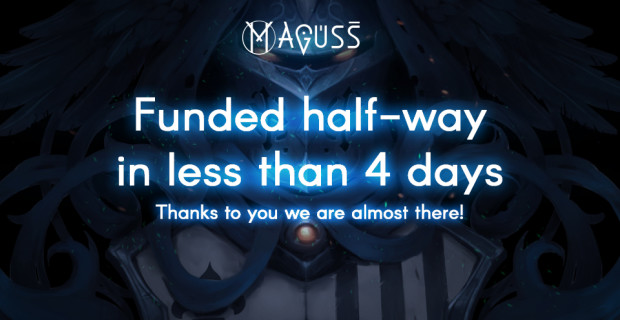 Dear backers,

You left us speechless again.

Thanks to your incredible support and generosity we were half-funded in less than 4 days. The enthusiasm you demonstrate is astonishing. The prospect of turning this world into a fantasy one is closer again.

As a thank you for your efforts we have decided to run a referral competition. The one person that refers the most people to the campaign site will get an exciting reward. We are going to provide more details in a couple of days.

We would also like to invite you to our forum. The community that has started to grow there is full of amazing people. They all help each other and together we talk about various topics. Feel free to join and discuss with us. We can't wait to meet you.

---
Quests section added - check it out!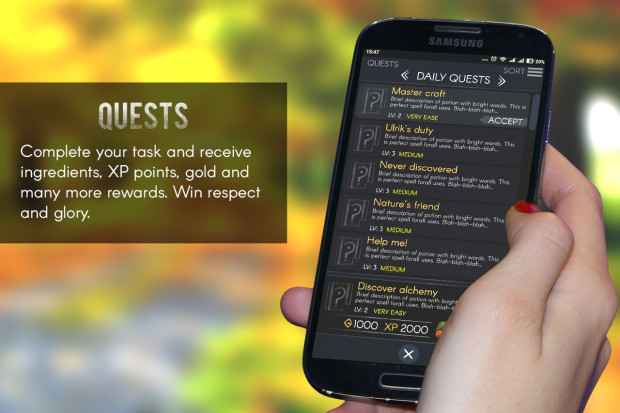 There is a reason why you are about to become a wizard. You are one of the bold few who chose this path and is willing to fight until the end. And there are people who desperately need your help. Talk to them, accept a quest and prove your character.  
---
Referral contest - a chance to win great prizes!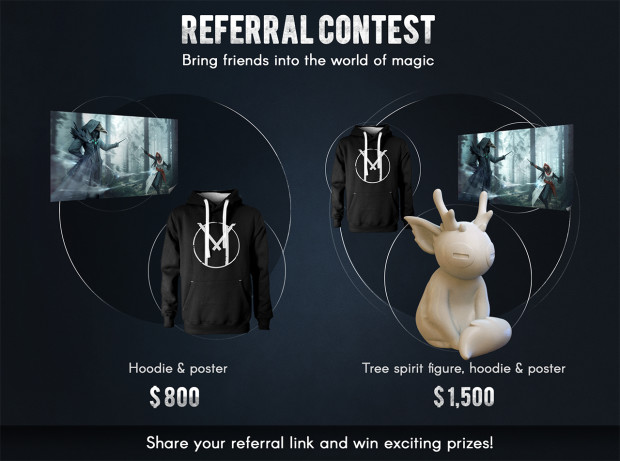 Are you up for a bit of a challenge? Do you want to win exciting rewards? Then read more!

As of today, we are launching a thrilling competition. The task is simple. Try to refer the most people to our campaign and if they buy any of the rewards, you are a step closer to being a winner! Whoever refers the most people who contribute to our project wins!

There are 2 prizes to win. However, there can be more than 2 winners! If contributions from friends you referred to the campaign pass $800 you are going to get a prize #2 and if you are even more successful, and contributions pass $1500, you'll also get a figure of the Tree spirit on top of the #2 prize.

All you have to do is to log in to Indiegogo and click on the button that looks like a chain.

That will give you your personal link that you can share anywhere you like. If anyone with that link will back our project, we will know about it and reward you accordingly.

Share the story and win amazing rewards!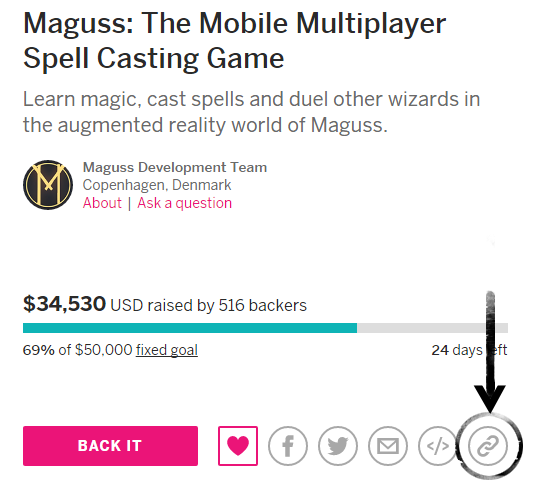 ---
Ingredients section added – see for yourself!
10/22/2016


There are so many potions you can mix. However, you have to have right ingredients. They can be found all over the world. Some of them are harder to find than others.

Follow the recipe, add them in the correct order and enjoy the result. Mess up the process and the outcome might surprise you.
---
Maguss is finally FUNDED!
10/24/2016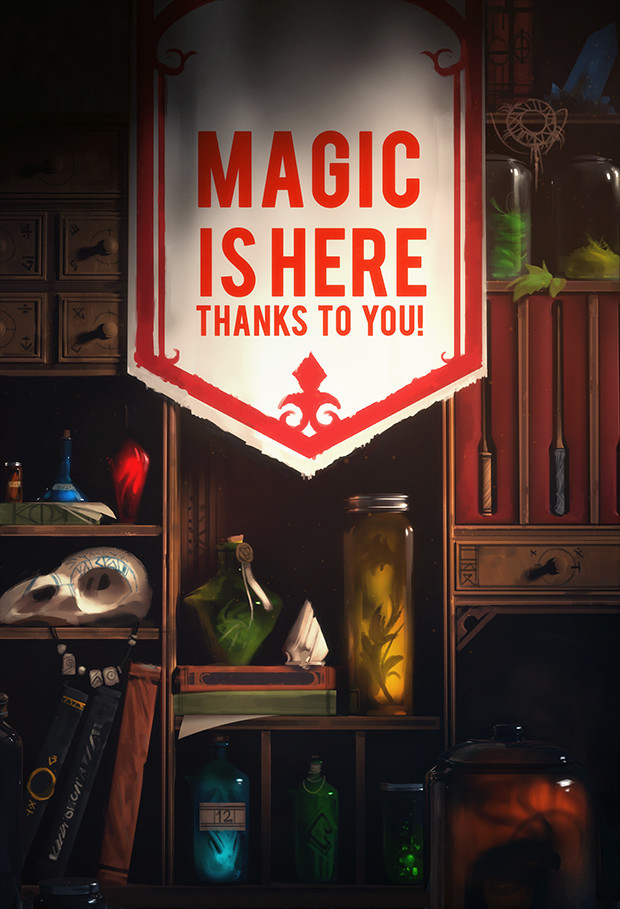 Thanks to your help, effort and dedication we have made it!!!!

Maguss is officially 100% funded. The old tradition has been revived and the magical experience we promised is about to come. All your donations, comments and social media activity helped us reach the goal we have been dreaming about for so long. Words cannot describe how happy and delighted we are. After all those years we will be finally able to deliver you the game we have worked on so hard.

However, this is just the beginning. There are still 18 days left in which you can unlock several game enhancing stretch goals we have prepared. We will announce all of them in the next update scheduled for tomorrow. We truly hope that with your help we can hit all of them and make an even more exciting game.

Please, don't forget to spread the word. Tell your family, friends, and anybody you want that being a wizard has never been easier.

Once again,

THANK YOU.



We feel we have the best community of fans in the observable universe!

Until the next time,
Maguss Team.
---
It's time to unlock some Stretch Goals!
10/25/2016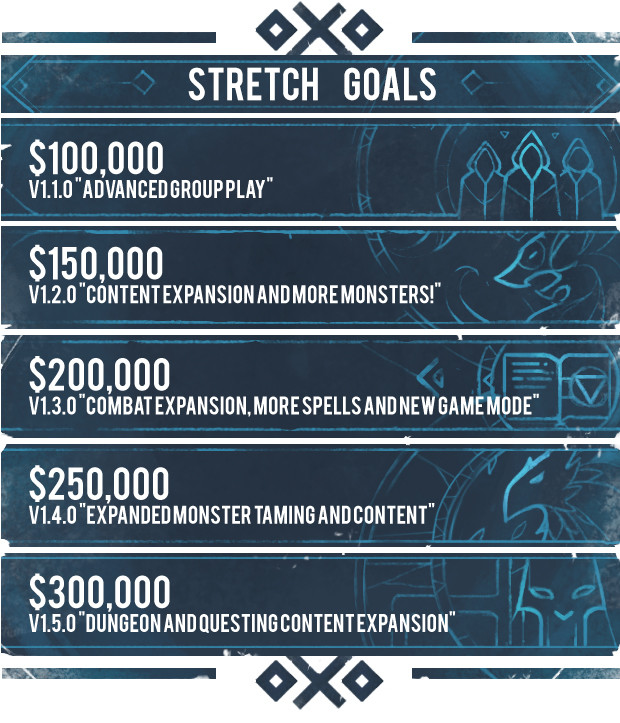 As promised, we present you the Stretch Goals Table!

Additional funds will allow us to further enhance the gameplay and make the game even more exciting. Thanks to your incredible, persistent and enthusiastic support we are already on our way to unlock

Stretch Goal #1, "Advanced Group Play"!

The addition of this feature will allow you to raid dungeons with your friends! Imagine fear in the eyes of all the monsters when they see your well dressed party rushing them with all the spells.

Don't forget to share the story and together we can unlock them all!
Until the next time,
Maguss Team.
---
Stretch goal mystery unveiled!
10/26/2016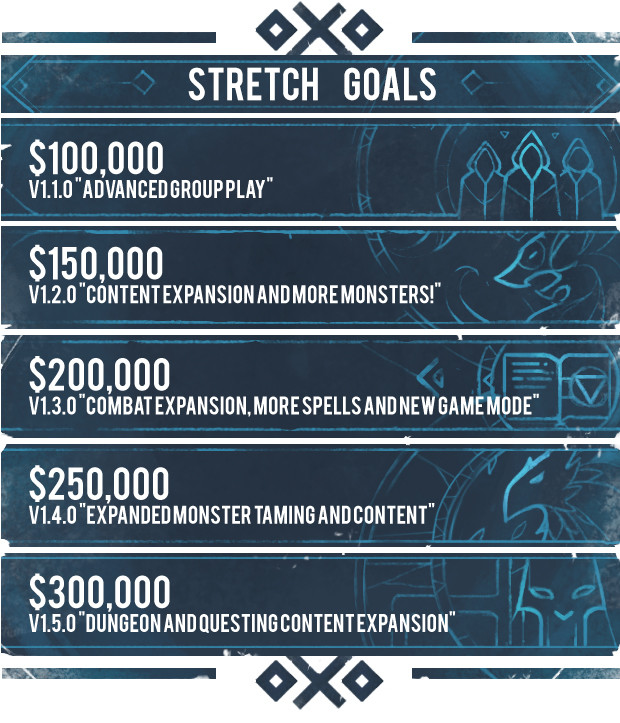 The following text is a response to your questions about the high funding goals for stretch goals.

Additional funds will allow us to further enhance the gameplay and make the game even more exciting. We do realize that a huge leap from the funding goal to the first stretch goal might surprise you. The reason behind it is financially very demanding mass production of wands.

Therefore, most of the funding goal funds will be used to cover these expenses leaving just a small amount for salaries and other costs. We don't want to make false promises and that is why we set stretch goals high enough to be financially able to bring you more content.

Hopefully, you can understand and help us unlock them!
Until the next time,
Maguss Team.
---
Maguss got certified!
10/29/2016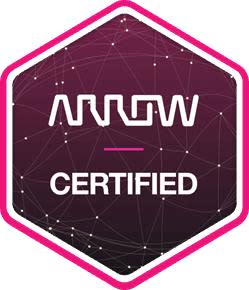 As some of you may have noticed, we got a sexy badge. We are very proud to announce that we have been certified by Arrow Electronics. It means Arrow reviewed our product and declared the campaign ready for production.

This appreciation means that we are on the right path and provides you, our beloved backers, with a sign that you have made a right decision by choosing to support our project.

There are still 13 days left in the campaign in which you can unlock exciting stretch goals. You have already got closer to the first one, Advanced Group Play.

Don't forget to share the project and help us unlock the first stretch goal!


Until the next time,
Maguss Team.
---
New Art!
10/31/2016
"Look for the one that has withstood the test of time. For it has to have a strong foundation."

Watch the creative process behind the birth of the Fellowship of Wizardry founding father.

Stay tuned for more. We have so much to show you.

Don't forget to share the project and help us reach the first stretch goal! There are still 10 days left.


Until the next time,
Maguss Team.
---
Trick or Treat
10/31/2016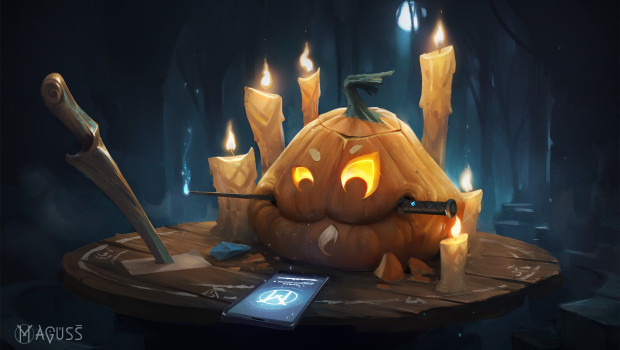 We would like to wish you a happy Halloween full of joy and wonders.

Enjoy the night with your family and friends and if you see any magic, don't be afraid. Remember you are about to become a wizard.

Don't forget to share the story and send some sweets.
Until the next time,
Maguss Team.
---
Dear backers,

We have an important news for you.

After the recent events and a careful deliberation we have decided to prolong the campaign for another 10 days.

Now it is time to explain why.

In the past few days we made a very interesting deal. We would be very glad to disclose to you all the details but, unfortunately, we are legally bound not to. However, the important thing is that it will allow us to improve the game even more. The extra 10 days provide us with enough time to bring you even better alpha version of the game to satisfy your curiosity.

We have also noticed a significant increase in the news coverage of our project. That means all the people that haven't heard about Maguss yet will have a chance to look at our campaign and, hopefully, contribute. We are pretty sure there is a lot of players who would love to play the game only if they heard about it.

And finally, with all the extra time we will be able to raise more money and possibly reach the first stretch goal, Advanced Group Play.
We want to stress that besides prolonged campaign nothing changes. We will still deliver the alpha version of the game first to you, even though 10 days later than we have imagined. Stay tuned and let us bring you the magical experience in a bit.
Until the next time,
Maguss Team.
---
First stretch goal UNLOCKED!
11/17/2016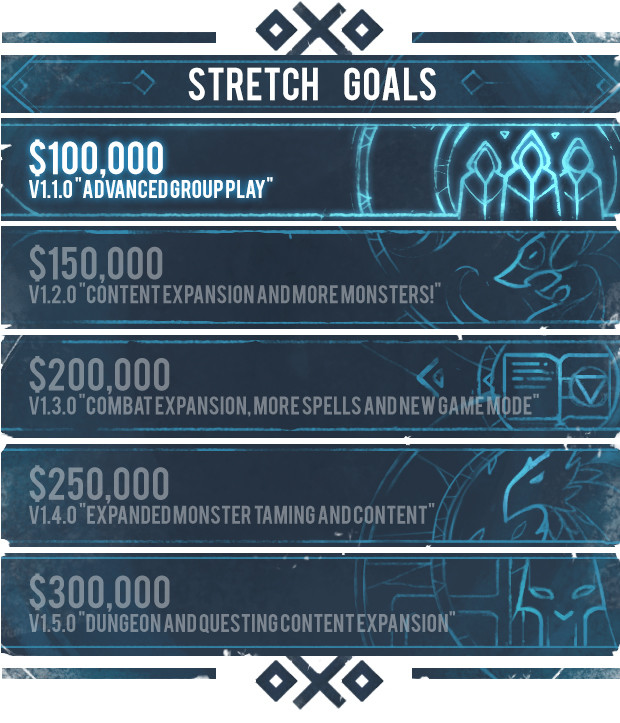 Dear backers,
You have successfully managed to unlock the first stretch goal, Advanced Group Play!
All your extra support means we will be able to add another game feature. We want to make the game as entertaining as possible and the additional funds will allow us just that.
Is the final boss too difficult? Create a party and help each other!
Implementing Advanced Group Play means you will be able to join your friends and together raid a dungeon full of monsters.
Remember, the campaign isn't over yet! Please, don't forget to share the story and show others that there is a chance to experience magic. In the AR world of Maguss!
Thank you for your incredible support!
Until the next time, 
Maguss Team.